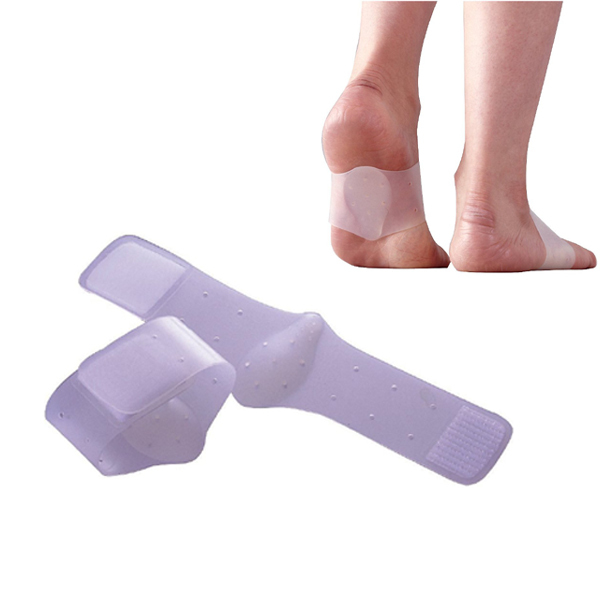 Overview
Plantar fasciitis is a common foot disorder that affects more than two million people every year, especially runners. It is inflammation of the plantar fascia, a thick band of tissue on the bottom of the foot. The most common area of pain is directly on the bottom of the heel, although some people may only have pain in the arch of the foot. Diagnosis of plantar fasciitis is typically done through a physical examination, which includes listening to the patient history, palpation of the heel and possibly x-rays.
Causes
Plantar fasciitis generally occurs over time, rather than being the result of a single event. Micro trauma from repetitive stress to the tissue often combines with a biomechanical deficiency of the foot to produce the condition. In addition, arthritic and metabolic factors may contribute to the development of this injury, (though they are unlikely to affect young athletes). A variety of training errors commonly lead to plantar fasciitis, particularly a rapid increase in either volume or intensity of athletic activity. Volume refers to the distance or time an athlete performs, while intensity refers to the pace of activity and/or the recovery time allowed following performance.
Symptoms
The pain associated with plantar fasciitis is typically gradual in onset and is usually located over the inner or medial aspect of the heel. Occasionally, the pain will be sudden in onset, occurring after missing a step or after jumping from a height. The pain is commonly most severe upon arising from bed in the morning, or after periods of inactivity during the day. Thus, it causes what is known as "first-step pain." The degree of discomfort can sometimes lessen with activity during the course of the day or after "warming-up", but can become worse if prolonged or vigorous activity is undertaken. The pain is also often noted to be more severe in bare feet or in shoes with minimal or no padding at the sole.
Diagnosis
Your doctor will ask you about the kind of pain you're having, when it occurs and how long you've had it. If you have pain in your heel when you stand up for the first time in the morning, you may have plantar fasciitis. Most people with plantar fasciitis say the pain is like a knife or a pin sticking into the bottom of the foot. After you've been standing for a while, the pain becomes more like a dull ache. If you sit down for any length of time, the sharp pain will come back when you stand up again.
Non Surgical Treatment
Cut back on walking, running or athletic weight bearing activities. Try the recommended stretches above. Shoes with a good arch support and heel cushioning or over-the-counter orthotics may help. Icing the area of pain or taking a short course of anti-inflammatory medications such as ibuprofen or acetaminophen will help with pain. If treatments do not help, a doctor can suggest other options.
Surgical Treatment
In unusual cases, surgical intervention is necessary for relief of pain. These should only be employed after non-surgical efforts have been used without relief. Generally, such surgical procedures may be completed on an outpatient basis in less than one hour, using local anesthesia or minimal sedation administrated by a trained anesthesiologist. In such cases, the surgeon may remove or release the injured and inflamed fascia, after a small incision is made in the heel. A surgical procedure may also be undertaken to remove bone spurs, sometimes as part of the same surgery addressing the damaged tissue. A cast may be used to immobilize the foot following surgery and crutches provided in order to allow greater mobility while keeping weight off the recovering foot during healing. After removal of the cast, several weeks of physical therapy can be used to speed recovery, reduce swelling and restore flexibility.
Prevention
Preventing plantar fasciitis is crucial. There are many choices to help prevent the occurrence of this condition, and keep it from returning. One of the most important is maintaining a healthy weight in order to reduce tension on the plantar fascia. In addition, shoes are very important, and should fit well and provide ample cushioning and support throughout the heel, arch, and ball of the foot so that weight is distributed evenly throughout the foot. Try to avoid walking barefoot on hard surfaces and replace old shoes before they wear out, especially shoes that you run or exercise in. When exercising, start off slow and ease into new routines to prevent sudden or excessive stress on tissue. Lastly, keep your calf muscles and the tissue of your feet stretched. Greater flexibility in the tissue makes them less susceptible to damage.